O andamento das publicações da Onyx Path que interessam ao blog no último mês e meio.
O Onyx Path vem publicando algumas páginas de uma HQ relacionada a um dos próximos lançamentos deles para Trinity, o Aberrant. Pra quem é fã do jogo e de quadrinhos não tinha como ser melhor.
(Aberrant Imagem)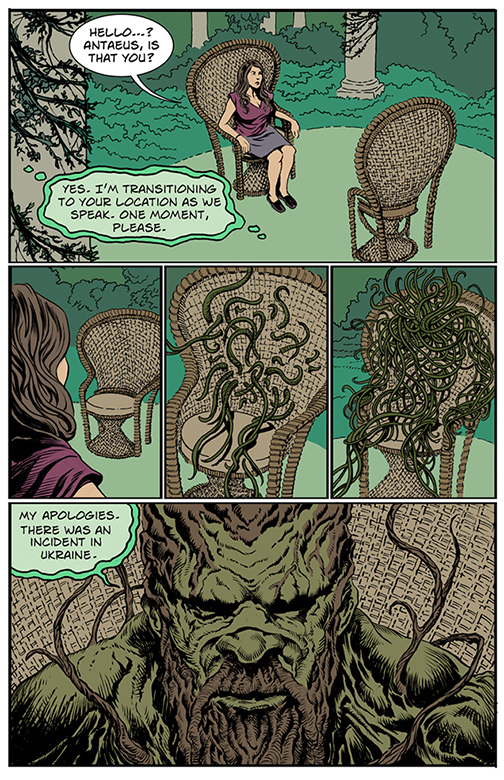 Finalmente saiu o primeiro suplemento para Mago: O Despertar, segunda edição, o Signs of Sorcery. O livro tem um absurdo de informações.
Umas 30 vantagens novas.

Umas 54 novas idéias para feitiços clássicos.

Simbologia e lista de Yantras completa para os Exarcas e Profetas do Trono.

Nome e simbologia dos Oráculos.

Simbologia e lista de Yantras completa para as cinco Sendas.

A visão de cada uma das Arcanas em cada Torre das cinco Sendas.

Expansão e novas sugestões de uso para Visão mágica.

Ferramentas e trabalho em equipe para desvendar mistérios.

Intrusões Supernas e entidades feitas de magia.

Expansão na mecânica de Yantras e novos usos…
Isso tudo eu ainda não tinha passado do primeiro terço do livro. É uma quantidade de material gigante para os obcecados despertos.
Tem o nosso servidor de discord para tirar dúvidas sobre o Chronicle of Darkness, notícias, jogar papo fora, falar com os Cronistas, trocar experiências e organizar mesas.
O nosso servidor de discord também conta com um programa de mesas ao vivo, pra quem quiser ouvir como se dão mesas utilizando os jogos do Chronicle of Darkness. Qualquer um pode vir e ouvir a mesa. Já temos mesas segundas, terças e quartas.
Temos dois novos programas no youtube:
O primeiro é aos domingos ~20h abordando artigos já produzidos no blog.


O segundo programa está ocorrendo durante a semana em geral entre as 18h~19h, é uma aula no servidor de discord R.P.G Mestre dos Magos, sempre discutindo um aspecto ou linha de jogo do Chronicle of Darkness.
Significado dos Estágios de Produção
Beast: The Primordial
Geral dormindo.
Changeling: Os Perdidos 2e
Kith and Kin

primeiro rascunho (

Redlines

).

Oak, Ash, and Thorn: Changeling: The Lost 2nd Companion

seguindo o flautista (

Development

).
Deviant: The Renegades
Deviant: The Renegades

continua em revisão e no site da Onyx Path tem

spoiler

(Development).
Geist: The Sin-Eaters 2e
Geist: the Sin-Eaters Second Edition

pdf na mão dos financiadores e erros sendo coletados (

At Press

).

Memento Mori: the GtSE 2e Companion

estou ansioso pra desencavar essas preciosidades (

Editing

).

Geist2e Fiction Anthology

é claro que os mortos também tem suas histórias (

First draft

).

One Foot in the Grave Jumpstart

se erguendo da cova (

First draft

)
Hunter: The Vigil 2e
Hunter: the Vigil 2nd Edition

e a vigília continua (

Manuscript Approval & In Art Direction

).
Linha Azul
Contagion Chronicle

um suporte para crossover em mecânica e cenário. Financiamento já foi realizado

(Post-Editing Development & In Art Direction).

Dark Eras 2

tá andando

(Post-Editing Development & In Art Direction).

Contagion Chronicle: Global Outbreaks

mais material infectado

(First Draft)
Lobisomem: os Destituídos 2e
Night Horrors: Shunned by the Moon

a Sombra conhecerá os abandonados pela Lua (

Proof

).
Mago: o Despertar 2e
Signs of Sorcery

finalmente caiu do superno e a espera valeu a pena (

At press

)

Night Horrors: Nameless and Accursed

os coisa ruim estão vindo (

Editing & In Art Direction

).
Mummy: The Curse
Mummy: The Curse 2nd Edition

múltiplos spoilers sobre um futuro amaldiçoado já existem

(Second Draft).
Promethean: The Created 2e
Todos os peregrinos alcançaram a nova aurora.
Vampiro: o Réquiem 2e
Spilled Blood

clãs perdidos, linhagens alternativas e outros tipos de vampiros (

Editing & In Art Direction

).